FACT: Social Media Marketing is
an effective way to grow your local business.

Do you have the right tools to make it happen?
How It Works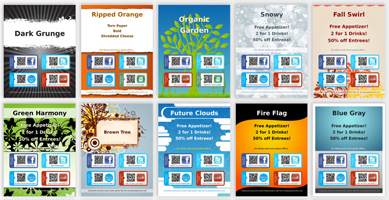 Click "Get Started" to launch our easy web-based poster wizard.
Get started immediately. Watch your poster come alive as you work.
Choose from dozens of professionally designed templates.
Designs for any business, from serious to fun. Colors & graphics customizable too.
Enter the text for your poster.
Writer's block? We have a bunch of examples to help you get started.
Enter your social network addresses.
We automatically include scannable QR codes for your Facebook, Twitter, Yelp, Foursquare, and web pages, so customers can connect instantly.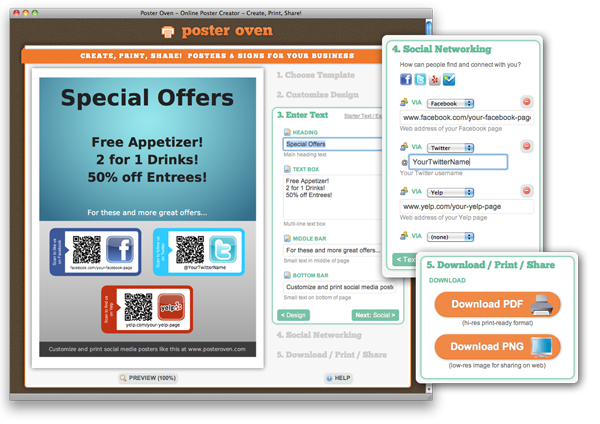 Download a PDF file to your desktop.
Just one click, and your poster arrives on your desktop as a print-ready PDF file. All home computers can easily open and print these files.
Print the PDF on your color printer.

Or take it to your local copy or print shop and have it printed on thicker or fancier paper or with other professional touches.
Hang the poster inside your store, in your front window or door, or in a public place.
Taped, tacked, tented, framed, or cycled on an LCD display. On a wall, in a window, on a cash register, on a table, in a dressing room, bathroom, hallway, or anywhere. Or print a whole stack for use as mail inserts or handouts.
Watch your social connections grow every day!
more fans • more followers • more reviews • more check-ins • more customers • more loyalty • more buzz • more feedback • more viral social marketing • more repeat customers • more revenue!